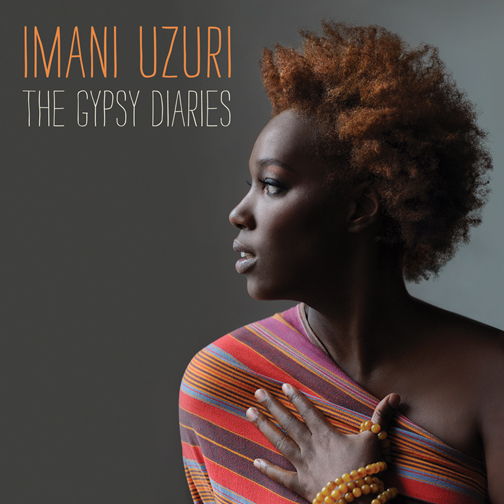 Imani means Faith and Uzuri means beautiful.  A spiritual name that she chose that showcases the principles that she loves in her physical life.  She believes that sometimes it isn't about knowledge but having belief in the faith.   The principle that guides her is finding the grace and beauty in life. Imani Uzuri is the definition of eclectic with sounds mixing rock, blues, soul, and world music. I was super excited to learn that she has a new CD coming out and that she was open to being interviewed.  


How was it growing up in North Carolina?

It was beautiful.  I have a great appreciation for nature - so I spent a lot of time in the woods.  I also spent a lot of time reading.

So how did your growing up in North Carolina fuel your passion and

your

need to travel?

I feel like growing up in a small rural town in the country taught me to cultivate and deal with quietness and pay attention to what is going on around me.  

My

need to travel came from reading. It helped me understand that the world has so many diverse cultures that I definitely wanted to explore.

I know that you have two

Cd's

out?

I did my first

cd

- Her Holy Water: A Black Girl's Rock Opera which was  an independent release.  I also continued to

collaboratie

with different artists.  Now I have my newest CD - The Gypsy Diares.

There seems to be a difference in energy levels between the first CD and the second CD?  What happened between the first and second CD?

Well,

i

feel the second CD is more introspective.  The first CD was more like proclaiming myself to the world, I wanted the world to know who I am.  So on that CD, I was really expressing myself.  I wanted to express as vividly as possible.   I feel that this second album is to honor aspects of myself in the quieter moments.  You know, the meditation, the silences

help

us understand our positions in the world.  It is like going inside a  little bit more and commenting on the internal.  I was traveling so much and  when you travel, you are by yourself a lot.  During the days, I would be meeting new people and I felt the loneliness, the

vulneralbility

. I had to learn that I am the only one that is consistent.

What kind of challenges did you face birthing your music?
Being an independent artist has some form of freedom.  But, you know sometimes, we get misunderstood.  Sometimes, you are working and then you might start asking yourself if your music is being recognized.   One of the challenges is finding ways to connect to a larger community. Social networking online definitely supports independent artists and is wonderful.  It has helped us all to connect across the international underground.



What genre can we place your music?

My foundation represents the Diasporas, the spirituals, the blues, jazz and soul.  It represents world music.  I am really into world music like Oumou Sangare - her voice is so powerful and she is an activist. I am inspired by artists like  Nursrat Fateh Ali Khan, Mercedes Solso, not to mention people like the Odetta who sang the work songs and field hollers. Mahalia Jackson ,  Alice Coltrane, Nina Simone who got people to translate their spiritual worldviews.  Most of these people aren't in a genre. I felt that my last album was rock in the black sense of rock. For my new album, some might place my music within soul, world,  jazz, folk, blues. In terms of the music industry and my genre - I have no idea. I have never been within the industry, i've always been an independent artist.  I am so thankful that I am part of the international underground, because we are all connected.

What's your message to the world?


Love our selves and love each other.   I really feel that love is the one thing that can heal.  We really need to learn how to love ourselves and how to be in communion.  I think that love transforms all of us.

Let's talk about the Gypsy diary?


I am using the word gypsy as in someone who travels a lot.  This CD represents the traveling, the journaling  There is a also a diverse Roma community around the world that are sometimes called Gypsies.  Though I am not of Roma descent, I feel connected to the oppression that  is connected to forced migration.  As a person of African-American descent who is a part of the African Diaspora, I find camaraderie in the history of being displaced.  In Black American folklore we have stories of the traveling gypsy woman, the traveling blues woman.  This album deals with the ideas of traveling and the tragedy and the triumph that can be found in that.  I have ancestry known and unknown. I am claiming this displacement and claiming home by doing that.


Where can we get your cd from?

Digital downloads on Itunes, CD baby, my shows and I will organize something on my website. I am so excited
to share my music with the world June 5th!
Take a listen to the interview:
Please check back for singles off her upcoming CD sometime this week.
Last Updated ( Thursday, 17 May 2012 23:51 )