The world of romantic novels is often waved aside with a flick of the hand but what some refuse to acknowledge is that these books often reflect the culture, societal norms and value system of society.  These books often leave us with the what if question after opening up our third eye to the world of possibilities and of course exotic locations.  This month we talk to  multi Ghanian author Empi Baryeah who is simply phenomenal.  We talk love, romance and life this month.  Sit back, read the interview and go get your copy of her books.


Why Romance?

Because I love love. Because it's nice to watch two people find love. Because I love that warm feeling I get when a gentleman walks into a room and sweeps a woman off her feet (even if it's only on paper). Because everyone understands love, or at least yearns for it. It's the thing that unites us all.
 Most importantly, why multicultural romance?

Multicultural just happens to be the 'label' given to the genre I write. LOL. Meaning, I didn't set out to write 'multicultural romance'. As the saying goes: "to write well you must write what you know," and so when I put pen to paper (or fingers to keyboard, as is the case now) it was natural to write about people like me and places or experiences I'm familiar with.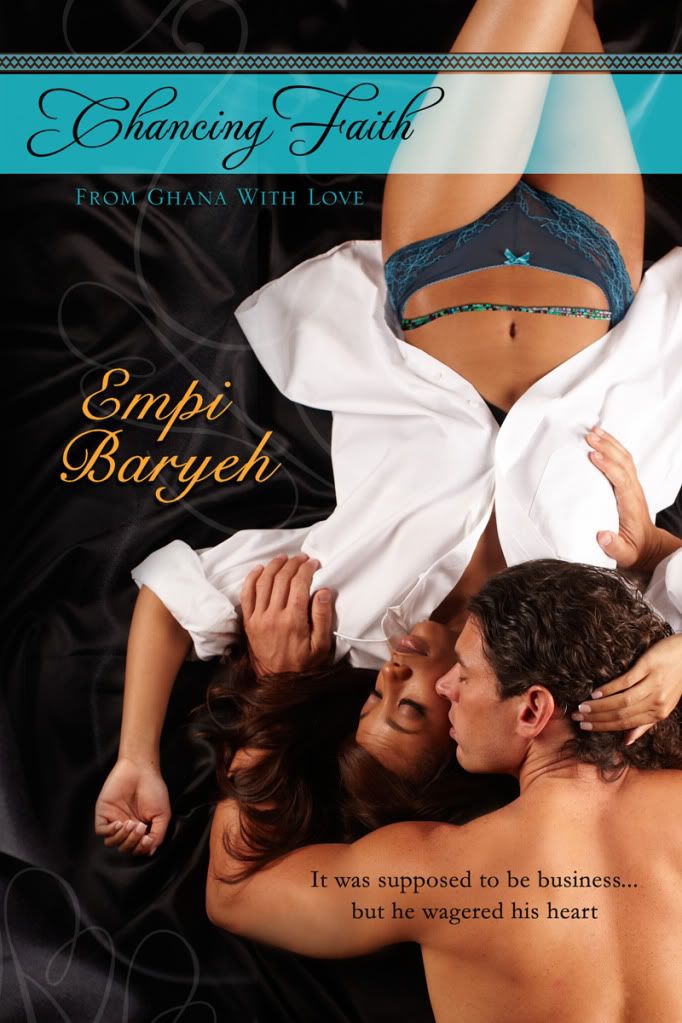 If someone asked you to describe yourself, what will you say?

Depending on which side of the glass you're standing, you'll find that I'm either too simple or too complicated. :-)
What did you have to give up to become an author and was it worth it?

I don't think I've had to give up anything – not consciously, anyway. I happen not to be particularly outgoing, so I didn't have to give up an active social life to concentrate on writing. So I guess the answer has to be: yes, it was worth it, if I can't really pinpoint anything I 'gave up'.

How did people around you react to your becoming an author - did they congratulate you or were they more worried because of the content and subject matter of your books?

LOL. I got congratulations. To be honest, I'm the one who was a little worried about telling *some* people what I write. Even though I write sweet romance, the idea of sex scenes and raunchy cover art is something that makes a good number of Ghanaians uncomfortable. But so far I've had surprisingly positive reaction, which tells me that maybe the time is ripe for African romance. (watch out, world)


I read one of your books (chancing faith) and I loved it - it was a story set in Ghana, featuring an interracial couple - how much research went into writing that story?

First off, thank you so much for reading Chancing Faith. I'm stoked to know that you did AND that you enjoyed it. I didn't have to do much research for Chancing Faith, because a lot of things came from experience. E.g. I used to work in advertising, so the agency workings, advertising lingo, presentations etc. were all things I already knew. The story takes place in Ghana, which is where I come from and currently live. And I've been in an interracial relationship before.
 How has the response been?

The response has been wonderful. Chancing Faith became an All Romance e-Books (ARe) bestseller within three days of release! That completely blew me out of the water. I've discovered that there are lot of readers who, like me, want to see fresh angles to interracial romance. Chancing Faith is an interracial romance with a difference – its focus is more on culture and business than racial tension. I think that has been well-received.
In terms of reviews, I've had mostly very positive feedback from readers, but also a couple of harsh one (which are hard to takes, but I think every writer needs a couple of those in order to remain grounded. LOL)

 Why do you set your stories in Ghana?

I set out to write stories about Africans living in Africa. Ghana was a natural first stop, but one of the books I'm working on now (sequel to Most Eligible Bachelor), is to be set in South Africa. I also have a 3-book series in the pipeline that takes place in a fictional African kingdom. I would definitely love to explore more African settings.

What makes your writing different from other authors in the romance genre?

Ooh, tough one. I can't speak for others, of course, but I always write from the heart and I tend to write about regular people like you and me, situations that *could* happen to us.
I have to feel an emotional connection to my characters and their stories; otherwise it's just a bunch of words strung together. So my stories are emotional, and I think readers can connect with my characters because they are so familiar.

 
How do you choose your protagonists? Are they based on people that you know? What characteristics are you drawn to?

I usually start with an idea ("what if…"; "I want to write a story about…"), which then leads to the characters. Each character is very personal, and yes, in most cases there's a bit of someone (sometimes several people) I know [shhhh]. Once the characters and general idea are set, the characters drive the story.
I love strong heroes – significantly alpha, but with strong beta tendencies. A guy with old-fashioned (in a good way) values, who knows his stuff, is confident and opens the doors… that is such a turn on.
As far as heroines go, I love confident and driven heroines who still remain very feminine. I have a thing for virgin heroines. There's something sexy about a woman discovering her sexuality, I think

How long did it take you to finish writing your books?

The first draft of Most Eligible Bachelor took just about a month to complete. That's the fastest I've ever completed a novel; I wrote a few pages every single day. After the first draft, I had to revise and polish. Chancing Faith took much longer to complete, but there were long breaks in writing, so it took years to finally type 'the end'. Once it was done, however, it took relatively less time revising and polishing.
I guess the time it takes to complete a novel depends on the story, the emotional toll it takes to write it and whatever else is happening in real life.

How often do you write?

To be honest, I don't have a routine. I try to write every day, but that doesn't happen all the time for various reasons. I may be just too tired from work to write in the evenings. I try to do some writing over the weekend as well, so if anyone has any tips on how to make sure I get some writing done every single day, I'm open to suggestions.

What were the challenges that you faced getting your story published?

I live in Ghana, so that's the first challenge. There aren't many traditional publishers in my part of the world, so I had to search for publishers abroad and this was more difficult to do. Right now, my publishers are in the US and Canada, which means I had to convert my manuscript to US English instead of UK English that I'm used to.I discovered that big name publishers, even when they accept unagented submissions, usually do not accept electronic submissions. That means it costs more to submit my manuscripts. Speaking on agented submissions, most agent who deal in romance are based overseas, and some do represent writers in certain Geographic areas.

Writing competitions are also a big part of getting one's work out there. However, there are many competitions (such as the New Voices) that I couldn't take advantage of due to restrictions on eligibility based on country of residence.
That said, we are still in an age with the most opportunities available to African writers due to advances in technology and the new developments in the world of publishing.

Where can we get your books?

My books are available online at the following sites:
MOST ELIGIBLE BACHELOR:
1) Evernight Publishing: http://www.evernightpublishing.com/most-eligible-bachelor-by-empi-baryeh/
2) All Romance eBooks: http://www.allromanceebooks.com/product-mosteligiblebachelor-677351-149.html
3) Amazon:  http://www.amazon.com/Most-Eligible-Bachelor-Distinction-ebook/dp/B0074VTHNO/ref=sr_1_1?s=books&ie=UTF8&qid=1328280720&sr=1-1 (and all other Amazon sites worldwide)
4) Bookstrand:  http://www.bookstrand.com/most-eligible-bachelor
5) Barnes & Noble: http://www.barnesandnoble.com/w/most-eligible-bachelor-empi-baryeh/1109155569?ean=2940033045105

CHANCING FAITH:
1) Black Opal Books: http://bookstore.blackopalbooks.com/index.php?main_page=product_info&cPath=7&products_id=29
2) Amazon: http://www.amazon.com/Chancing-Faith-Empi-Baryeh/dp/1937329364/ref=sr_1_1?s=books&ie=UTF8&qid=1333193461&sr=1-1 (and all other Amazon sites worldwide)
3) Barnes & Noble: http://www.barnesandnoble.com/w/chancing-faith-empi-baryeh/1038109547?ean=9781937329365&itm=1&usri=chancing+faith&cm_mmc=AFFILIATES-_-Linkshare-_-TnL5HPStwNw-_-10:1
4) All Romance eBooks:  http://www.allromanceebooks.com/product-chancingfaith-769906-149.html
5) Smashwords: http://www.smashwords.com/books/view/145750

*For readers in Ghana, the paperback copy of Chancing Faith will be available in bookshops in August.

FROM THE BOOK - ADVICE

As I mentioned earlier, I read your book and you were tackling the issue of interracial relationships. Now we do agree that it is 2012, but it is still a big deal in many African communities- did you get any flack for writing on this issue? What are your thoughts on interracial marriages involving Africans particularly when we discuss some of the cultural issues that could come about?

I haven't got any flack for writing about interracial relationships. Like you said, it's the 21st century and we are used to seeing interracial couples around us. I think interracial marriages involving Africans face very difference issues from IR marriages with non-African Blacks. I think race is less of an issue than say, cultural decorum.

What advice will you give any woman who is considering an interracial relationship? What should she watch out for - so she does not become the 'exotic' one?

My advice is really going to be the same as it would be for any relationship. If he's a good, honest guy who loves her, understands and respects her, makes her laugh, then it doesn't really matter whether he's white, or black or any other colour. And being the exotic one isn't necessarily a bad thing, unless it skews one's expectations, and either party in the relationship could be found guilty of thinking of the other as exotic.

What is your story?

My story…hm, I'm a simple African girl who's had the opportunity to travel quite a bit and meet people from different countries, cultures, races and beliefs. I write sweet and tender African and Interracial romance that are both heart-warming and passionate. I started writing around the age of 13 when I discovered a story that my older sister had started. I was so intrigued by it that when I discovered it wasn't completed, I knew the task of completing it rested firmly on me. Somehow the ideas and the words for the rest of the story began to pour into my mind. I've been writing ever since. I live in Accra, Ghana, where most of my stories are set.
I have two novels out, Most Eligible Bachelor from Evernight Publishing and Chancing Faith from Black Opal Books. Currently I'm working on the sequels to both books, so look out for them :-)
I love to hear from readers, so here's how to reach me:
My blog: http://empibaryeh.wordpress.com
My website: http://empibaryeh.webs.com
Facebook page: http://www.facebook.com/empibaryeh
Goodreads: http://www.goodreads.com/empibaryeh
Twitter: @empibaryeh
Last Updated ( Sunday, 10 June 2012 19:15 )